Girl's gotta have an opinion about everything, especially when it comes to female sexuality. But I don't know what my final verdict is on burlesque. Let me just say, positive or negative, feminist or the antithesis, I was entranced.
The other night a friend of mine, let's call her "J", invited me to a burlesque show. Her coworker, "N" performs there (they're both elementary school teachers). We had met the year before when she told me about a performance where she starts in a chicken costume and ends up in nipple tassles (I still need to see this). "N" is preggers, so would not be performing. but I still jumped at the chance to go. "N" and her husband picked us up and took us to a fairly nondescript building, where we walked up two nondescript flights of stairs culminating in what looked like a 1920s speakeasy. Low seductive lights revealed a small bar to my right and a stage in front surrounded by a smattering of tables, folding chairs, and Victorian sofas. The walls were covered with nude images, both of the performers and vintage photos of nudes and burlesque dancers, an interesting snapshot of history. We got our overpriced beer and wine (my only complaint) and took our seats right up against the stage. The rest of the crowd started to mill in.
Now let's take a pause here. See I've been to several strip clubs and the crowd there typically consists of groups of "bros" (bachelor party or otherwise) with guys looking for a lap dance and some tits in their face, creepy middle aged men who are regulars and think that their love for the women on the pole is reciprocated, and sad old men with just 100 dollars to their name that will soon be 100 dollars in someone's g-string. The burlesque audience was maybe 20-30 people which consisted of the performers' spouses (we sat with two of the husbands), a
bachelorette
party, and in general no man there was without a girlfriend/wife or in a gender mixed group of friends.
Back to the performance. This was true vaudeville, comedians intermixed with burlesque performances. The comedy was good though it would have been nice to see a non-white male up there. But the burlesque...I couldn't look away. This was a performance, entertainment, this wasn't a barely clothed woman making her cheeks clap with a depressed look on her face just waiting for it to be over, crawling on her knees to pick up the dollar bills that had found their way to the stage. This was playful, hysterical, flirtatious and alluring. These fuller-figured, plump, and dimpled women were captivating. Elegant long gloves, bustiers, and at one point a stuffed puppy dog, were slowly shed to reveal breasts of all shapes, sizes, and levels of perkiness gleefully spinning tassels that punctuated the end of a dance.
Afterwards the women came to join their husbands at our table . I was still trying to figure out what I thought of it all. Was this exploitative? Was this demeaning? Was this feminist? "N" seemed to feel that it was an exploration of her body and sexuality. She had started off as a student here and just loved it so much that she transitioned into a performer. In general she says that these are often women owned businesses, that the culture of men profiting off of women's bodies that exists with stripping isn't a part of burlesque. These also weren't vulnerable women looking for a means of supporting themselves. She was a teacher, another worked at nearby Trader Joe's, and the owner traveled around the country with her act. These were educated, "average" women with a salacious outlet.
Days later, still wrapping my head around what made burlesque "okay" and stripping "taboo", I went to another educated woman with my questions. A university friend had begun stripping while we were in school. Initially feeling empowered by the experience, things quickly spiraled out of control and she was a victim of sex trafficking. Since then she has become a public speaker on the topic. About the differences between burlesque and stripping she said, "1) men aren't throwing money and women aren't scrambling for dollars and 2) women are on a stage, not throughout the crowd offering lap dances and accepting propositions for sex. It still may have a negative impact on the women's self-image, being seen as sex objects. Or they, may have studied this form of dance and feel like they're just dancing...[it depends on] the level of respect they get from the crowd--whether they're treated like objects or artists."
I'm not sure whether or not the audience treated these women like artists, but all I can say is, what a show!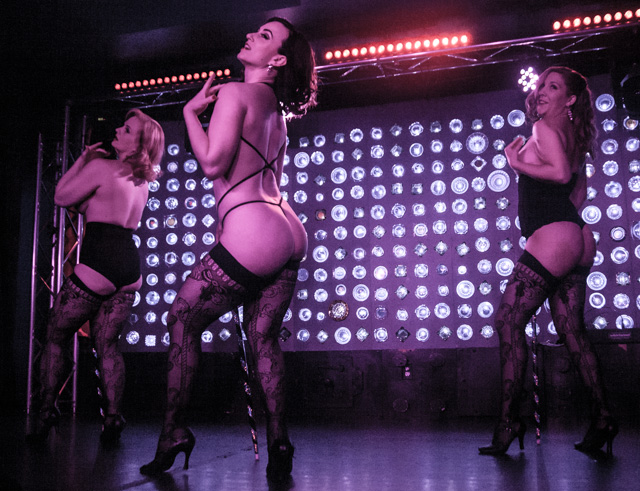 PHOTO BY MONTY LEMAN for BURLESQUE BEAT (http://wiggleroomchicago.com/news/)